News
Category: News
Published on Sunday, 17 January 2010 00:00
Written by Beoir
Irish Craft Brewer is pleased to announce the establishment of Beoir, a consumers' lobby for beer drinkers on the island of Ireland, and for all who seek to improve the variety and quality of beer available here. The new group will concentrate on the promotion of beer and cider from Ireland's micro-producers, as well as encouraging quality imports, and continuning Irish Craft Brewer's work in providing a forum -- both in real-life and online -- for the country's amateur craft brewers.
It will take time to build our momentum into something more than the ad hoc group we currently have, but the aim is very much to become an organisation as active in publishing, managing events and being visible in the media as CAMRA in the UK, or the many beer consumers' unions active on the continent and beyond.
At the moment there is a draft Constitution available for members to debate, and the intention is to ratify it on 1st July, when Beoir will officially come into being.
If you'd like to be part of this next stage of the revolution in Irish beer, annual membership costs €10 and more information on the group and how to join may be found here.
Category: News
Published on Thursday, 16 April 2009 11:12
Written by TheBeerNut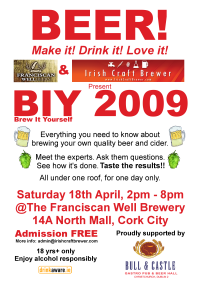 Come and meet the Irish Craft Brewer team, this Saturday, for one day only, at The Franciscan Well in Cork.
All your homebrew questions answered, free tastings, and equipment and ingredients for sale, courtesy of The Homebrew Company.
Whether you're interested in starting your own home brewery, or want to improve on past results, this is place to be.
Admission free. 18 yrs+ only.
Category: News
Published on Sunday, 08 February 2009 12:03
Written by TheBeerNut
The polls have now closed! Thanks to everyone who voted, and stand by for the results!
The third annual Irish Craft Brewer Beer of the Year awards will be announced in April. In 2009, for the first time, we are opening the selection process to all members of ICB and every beer brewed and available on the island of Ireland is eligible for nomination. The beer crowned as supreme champion can truly be said to be the favourite of all those who really care about Irish beer.
Two runner-up awards will be given, as well as an overall prize for Beer of the Year.
Details of how to vote, and a preliminary list of beers, may be found below.
Category: News
Published on Wednesday, 24 September 2008 10:49
Written by sbillings
Great news for craft beer in Ireland; our friends at The Porterhouse Brewing company, last featured in TheBeerNut's article about our visit to their brewery for the launch of Hop Head, have announced that they will be venturing into the realm of bottled beer.
Category: News
Published on Wednesday, 23 January 2008 15:41
Written by sbillings
If you have been following this thread in the forum you will know that I have made a submission to the Alcohol Advisory Group on behalf of the members of this website.

Thanks to TheBeerNut for the idea and taking everyone's opinions, expressed over a six page long thread and melding them into a coherent whole.

The group will be making their recommendations to the Minister for Justice, Equality and Law Reform by the 31st of March 2008.

The document was submitted via email earlier today. Download the full text here.