News
Category: News
Published on Sunday, 19 May 2013 13:09
Written by TheBeerNut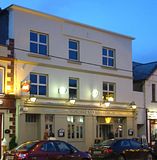 2013 looks to be a bumper year for Irish craft brewing. With Mountain Man launching shortly, to be followed by Holy Mountain, 9 White Deer and several others, the prospective is one of greater choice than ever before for the beer consumer.
The established microbreweries, meanwhile, are struggling to keep up with demand, and two of them have recently undertaken expansion work.
The Galway Bay Brewery opened at The Oslo in Salthill, Co. Galway in 2009. The brewkit was a modest 10hL set-up in a rear corner of the building. Since opening, however, the Cottage Group of pubs which owns the brewery has expanded significantly and now carries three to four Galway Bay beers in seven pubs in Dublin and Galway as well as the brewpub itself. With plans afoot to launch the range in bottles too, the need for greater capacity was obvious.
Space has been found on the Oslo premises to double the kit size and a 20hL brewhouse is now under construction. The open fermenters will largely be replaced by sealed unitanks allowing a much greater degree of control over each batch. A smaller pilot brewery is also to be installed, allowing what head brewer Chris Treanor describes as "more adventurous brews" to be produced. The new area is split over two storeys, allowing for a on-site malt store as well as a laboratory.
The new brewkit arrives next month and Chris is hoping the first beer from it will be flowing in July.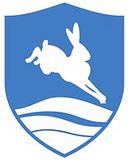 Meanwhile, the elder of Co. Donegal's two breweries -- Kinnegar, established 2011 -- is also in the process of increasing its capacity, "from tiny to just plain small" says proprietor Rick LeVert. A purpose-built brewhouse is almost finished at time of writing, occupying a compact 100 square metres on a farmyard site overlooking Lough Swilly.
The brewery will be home to a two-vessel brewkit plus three cylindrical fermentation vessels and a number of conditioning and bright beer tanks. Determined to keep the business on a farmyard scale, the new Kinnegar brewery will be creating its beers in 10hL batches.
June 2013 is the month Rick expects his hair to go grey, with the expected completion of the building, delivery of the equipment and -- all going well -- the first brewday. You can see pictures of the new brewery and follow developments as they happen on the Kinnegar Brewing website.
Beoir wishes every success to both projects and we look forward to tasting the new beers.
Category: News
Published on Tuesday, 19 March 2013 09:55
Written by TheBeerNut
Some new seasonal beers recently arrived, and on the way, from Ireland's craft breweries:
Voyager IPA by Galway Bay Brewery
Expected to come in around the 6% ABV mark, this IPA has been thoroughly hopped with Pacifica and Pacific Jade. Available exclusiverly on draught in the Cottage Group pubs in Dublin and Galway.
Kindred Spirit by Eight Degrees Brewing
An export-strength stout aged in Irish whiskey barrels, adding a subtle oak-and-smoke effect to the chocolate stout notes. 7% ABV and available on draught.
O'Hara's Double IPA by Carlow Brewing
A bigger brother to O'Hara's Irish Pale ale, this dark amber ale is 7.5% ABV and offers smooth warming toffee malt flavours contrasting with zesty citrus from the generous hopping. Available on draught.
Equinox by Metalman Brewing
The latest beer in the limited-edition "Chameleon" series, Equinox is a 4.6% ABV wheat lager brewed with orange, lemon and coriander.
Mahon Falls Rye Pale Ale by Dungarvan Brewing
Based on the very limited special edition Rye-PA Dungarvan brought to the 2012 Irish Craft Beer Festival, Mahon Falls promises all the punchy bitterness and fruit flavours of the original. 5.1% ABV and available on cask and bottled.
Category: News
Published on Thursday, 07 March 2013 14:42
Written by TheBeerNut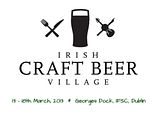 From Wednesday 13th March right through the St. Patrick's Day holiday weekend there'll be an opportunity to sample a wide range of Irish craft beers at the Craft Beer Village on George's Dock in Dublin's IFSC.
It will be open daily from 12 noon, closing at 10pm on Wednesday and Thursday, 12.30am Friday to Sunday, and 6pm on Monday.
From 13th to 15th admission is free before 7pm and €5 after, then €5 all day 16th to 18th.
For full details and breaking beer news, visit the festival website.
Category: News
Published on Monday, 11 February 2013 15:33
Written by TheBeerNut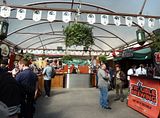 Now that the days are beginning to get longer it's time to look forward to some of the beer festivals coming your way over the next few months.

Cask and Winter Ales Festival, Cork, 15-17 February
At the opening event of the 2013 Irish beer calendar, The Franciscan Well will be hosting a celebration of cask-conditioned Irish beer, as well as strong and warming winter ales. Beoir members can avail of a couple of free drinks at the Friday evening session by showing a membership card at the bar.
More information

Irish Craft Beer Village, Dublin, 14-18 March
A five-day spectacular in the Dublin docklands as part of the overall St. Patrick's Day festivities. Featuring live music, artisan food and a wide range of beers from the independent Irish breweries.
More information

Easter Beer Festival, Cork, 30-31 March
One of Ireland's longest running beer festivals and always well attended by the breweries. Expect a mix of old favourites from around the country as well as new release beers and festival specials. Hosted by the Franciscan Well, it opens at 2pm on both days and admission is free.
Lots more beer festivals are planned for the summer and autumn in different parts of the country. Watch our events board and calendar for details as we get them.
Category: News
Published on Friday, 01 February 2013 14:46
Written by TheBeerNut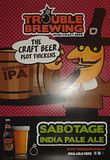 Kildare-based microbrewery Trouble Brewing have just launched the third beer in their regular line-up: Sabotage IPA. This is a 5.5% ABV India Pale Ale which makes extensive use of Galaxy hops, a variety prized for its tropical fruit flavours.
Trouble was founded in 2009, originally in Allenwood, Co. Kildare. 2013 will see the brewery move to a bigger premises closer to Dublin, in the village of Kill.
The new beer joins Ór golden ale and Dark Arts porter in the Trouble line-up and will initially be available in keg and cask formats, with a bottled version to follow later in the year.